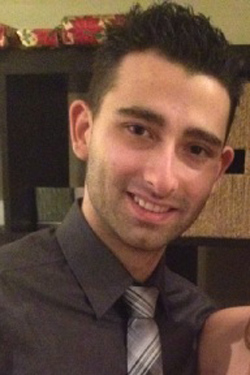 DJ DV8 - Resident - The Music Company - Toronto DJs
Danny, aka DJ Dv8, has been been DJing since he was 14. Holding strong to the belief that a better understanding of the history of DJ culture is necessary to understand the direction in which it is going, he has studied and put himself through experiences that many other out there, old and young, cannot surpass.
Starting from house parties, experiencing the nightclub life and later corporate and wedding styles of DJing, Danny has been fortunate to work with many great acts, learn the traditional ways while at the same time staying up to par, being versatile and able to adapt to the fast changing times. Innovative and professional are two traits that Danny always seems to keep in his head, whether meeting with clients to discuss how their event is going to stand out or designing and running a sold out theatre show.
Being highly skilled at everything from customer service, to teching even the most stressful shows, Danny is here to prove that the industry still has people that are dependable, reliable and get the job done, above expectations and without worry.
His vast experience throughout the entertainment industry has allowed him to witness and gain valuable knowledge from all sides of the industry. Whether he's rocking the speakers with the DJing, lighting up a spectacle with his experience in light programming, or MCing with his highly unique and unforgettable voice, Danny has been keeping the crowds in the Greater Toronto Area talking….and dancing.